Aloha! My students call me "Aunty Rose" and I am a happy volunteer for Ohana 100, a group that reads to children at some of our schools in Hawaii. This is my second year volunteering with Ohana 100 and I continue to enjoy reading to these youngsters, especially my Headstart classes. I have been impressed by the work of the teachers and their assistants as they prepare the children for future success in school. A huge MAHALO for a job well done!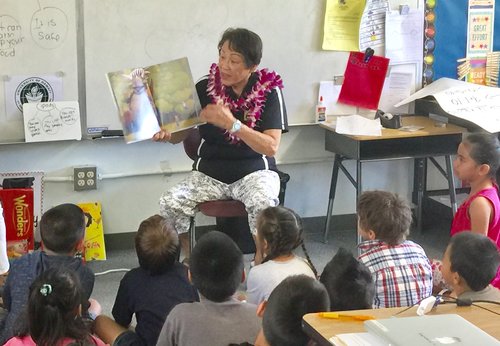 I graduated from the University of Hawaii and also attended graduate school at UCLA. I have been with the Department of Education for my entire career. My first assignment was at Ewa Beach Elementary school for two years. In those early days, we lived on campus in the teachers cottage. It was a great experience as we teachers had wonderful times together. We strolled or biked around the neighborhood and even walked to Puuloa Beach Park for a swim or better yet, we picked "ogo"--seaweed which was pickled and then taken home on weekends. I then transferred a bit closer to home and taught at the Kaneohe Marine Base--Mokapu Elementary School for a year. My next assignment was a "town" school, Lincoln Elementary and there I remained until my retirement. After teaching for over 25 years, I retired from the State. I have been fortunate to have worked with wonderful teachers and be guided by wise administrators. I have two daughters; they did not follow my career choice in education but chose to become engineers! Both live away, one in New York and the other in California with their families. I have 5 grandchildren and am thrilled to have a new addition of a great granddaughter.
With my family away, I am fortunate to have time to do some volunteer work. I enjoy helping to promote literacy by reading to children. It has brought me much joy to be greeted so warmly by the children and being able to interact with classes just by sharing stories with them. With the use of computers and other electronic devices, I believe our youngsters need to be introduced to books which help them use their imagination and make learning fun.