THE YEAR 2015 BROUGHT LOTS OF SMILING FACES TO MANY CHILDREN IN HAWAII AND NEW YORK WHO WENT HOME WITH THEIR VERY OWN NEW BOOK!!! THANK YOU TO ALL OUR SUPPORTERS AND VOLUNTEERS FOR BELIEVING IN OUR MISSION AND FOR BEING PART OF OUR OHANA100 TEAM!!!
DECEMBER 2015
Happy Holidays From our Family to Yours!!
KDWT Ambassadors collected over 500 gently used books to help build libraries throughout WNY. It's also KDWT's second year adopting a family through the Clarence Food Pantry. Thanks to Jim Owens for helping us bring the Joy of the Holiday Season to families in need. And finally, KDWT celebrated the year making ornaments, decorating cookies, watching a holiday movie and enjoyed each others company! Thanks to all our family, friends and neighbors who helped to support our efforts in the community this year!!!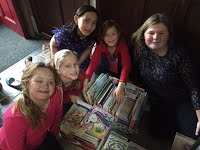 NOVEMBER 2015
FRIENDS PROMOTING LITERACY IN WNY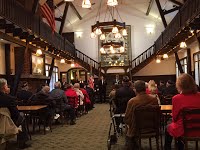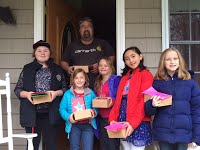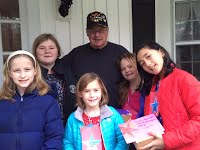 On Wednesday, November 11th KDWT Ambassadors attended a Veterans Day Ceremony hosted by the American Legion Auxiliary 838 of Clarence (established in 10/1947). The event was held at the Clarence Town House. We were greeted by our dear friend and WWII Combat Veteran Mr. Harold Enstice and wife Rosemary. It was a special day honoring Veterans and remembering Clarence residents who lost their lives as well those who are missing. To honor and pay tribute to our Veterans, KDWT made special cupcakes and cards for all veterans.
After r On November 5th, Kindergarteners at Maryvale Primary School were treated with wonderful stories read by volunteers from the Clarence Senior Center. There were five reading areas in the gymnasium . After reading time, all 161 kindergartners lined up to get a book. Thank you to our special volunteers for helping out this day! GO! READ Maryvale
OCTOBER 2015
On Saturday, October 3rd runners participated in the 7th Annual Flight 3407 Memorial Race in Clarence, New York that paid tribute to the victims who lost their lives on February 12, 2009. A portion of the proceeds went to the Eastern hills Sunrise Rotary Foundation who in turn awarded Ohana100 with the generous donation to continue work in promotingliteracy throughout Western New York. VISIT: http://flight3407race.com
On behalf of Ohana100, we would like to thank the Eastern Hills Sunrise Rotary Foundation for their generous support of our mission over the years.
SEPTEMBER 2015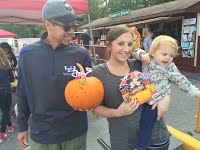 On Saturday, September 26th Ohana100 volunteers from the Senior Center and KDWT promoted literacy at the Clarence Hollow Scarecrow Festival in Clarence, NY. Kids who presented their summer reading log or participated in the pumpkin decorating contest received a free book. Kids who presented their summer reading log or participated in the pumpkin decorating contest received a free book. Thank you to all who participated! GO! READ
On Tuesday, September 22nd preschoolers at the Holly Cross Head Start Program in Akron, NY received books of their very own. This child wasted no time getting into his new book.
JULY 2015
KDWT ambassadors read books to kids as part of giving stories to kids at the children's hospital. A DVD was presented to the Women's & Children's Hospital of Buffalo for the kids who are not able to connect with the general public.
JUNE 2015
As part of the Ohana100 GO! READ project, KDWT Ambassadors distributed over 1,400 books to programs in WNY servicing children in need during the month of June 2015. Recipients of the Spring BOOK GIVING were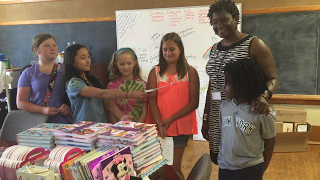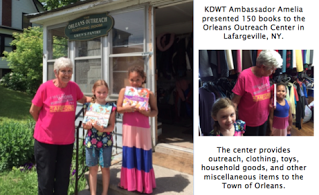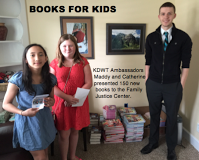 Family Help Center, Family Justice Center, Mrs. Strauss Class @ Harris Hill Elementary, New York State School For The Blind, Niagara County Head Start Program* (*North Tonawanda, Donovan, DiFrancesco, Newfane & Lockport Centers), Orchard Park Recreation Center, Orleans Outreach Program, Vive La Casa- Jericho Road, Women & Children's Hospital of Buffalo. KDWT members were fortunate to designate six organizations that do meaningful things to help support children in our community. Great Job KDWT Ambassadors!
Books Helped To Build A Library
KDWT AMbassadors donated new and gently used books to help start the VIVE LA CASA's Library. VIVE LA CASA is a refugee center in Buffalo, NY.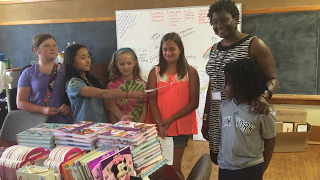 Ohana100 honors KDWT AMBASSADORS for their service in the Western New York communities. Since 2013, KDWT has completed over 36 service projects, completed over 360 cumulative service hours, donated over 1,200 gently used books, distributed over 1,200 new books, donated shoes and socks abroad, provided support and companionship to Senior Citizens, jump-started a refugee center library, honored active military and veterans & SO MUCH MORE!!! We are so proud of you! AMAZING WORK KDWT Ambassadors!!!!!!! Continue to Make A Difference in the communities you serve!!!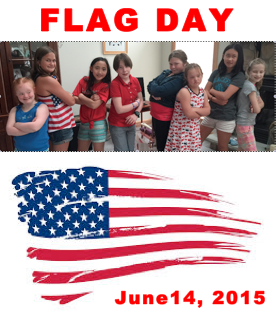 KDWT shares the joy of giving by supporting community organizations with gifts, celebrating national holidays and special events like Flag Day, Mother's or Father's Day.
KDWT Ambassadors celebrated Flag Day and also adopted an active duty unit who is currently deployed overseas. KDWT had a candy exchange during National Candy Month in June, where members shared their favorite candy and they also collected candies and shipped them to Unit 61239. In June, KDWT ambassadors celebrated Father's Day by preparing cards and special notes. They also made special key chains for dad!
MAY 2015
In May, KDWT ambassadors celebrated mothers and wanted to wish them all well on this special day!
APRIL 2015
In April 2015, KDWT donated a basket to the Clarence Senior Center for their 7th Annual Basket Raffle to benefit Meals On Wheels.
MARCH 2015
NATIONAL READING MONTH: To celebrate National Reading Month and to promote literacy, the Clarence Senior Center partnered with Ohana100 for the GO! READ project. Seniors were "BOOKWORM BUDDIES" to 241 kids at Buffalo United Charter School in Buffalo, NY. Thursday, March 19, 2015
Thank you Seniors for MAKING A BIG DIFFERENCE!!!
FEBRUARY 2015
CELEBRATING VALENTINE'S DAY AND CHINESE NEW YEAR
KDWT Celebrates Valentines Day by visiting seniors during the month of February.
KDWT members visited 20 seniors at the Amherst Senior Center to celebrate Valentine's Day in 2015. They sang along with the Karaoke, played their musical instruments and distributed special personalized Valentine cards and cupcakes. It was a very special moment for one particular senior who expressed a lot of emotion and wanted a hug from the members. Thank you to Ms. Karen, Mr. Matt and the center staff for allowing us this opportunity to spend time with your seniors
KUNG HEI FAT CHOY!!!! KDWT Ambassadors celebrated Chines New Year with 30 seniors at the Heathwood Assisted Living Center. They played Chinese Bingo, sang along with seniors and played their musical instruments. The seniors also had the opportunity to pop their own faux firecracker. The kids shared their valentine cards and cupcakes to. It was a very special day for everyone!
JANUARY 2015